French Cultural Garden
Support the French Cultural Garden
The French-American Chamber of Commerce needs your support to build the French Cultural Garden. Make a gift today to bring the garden to life.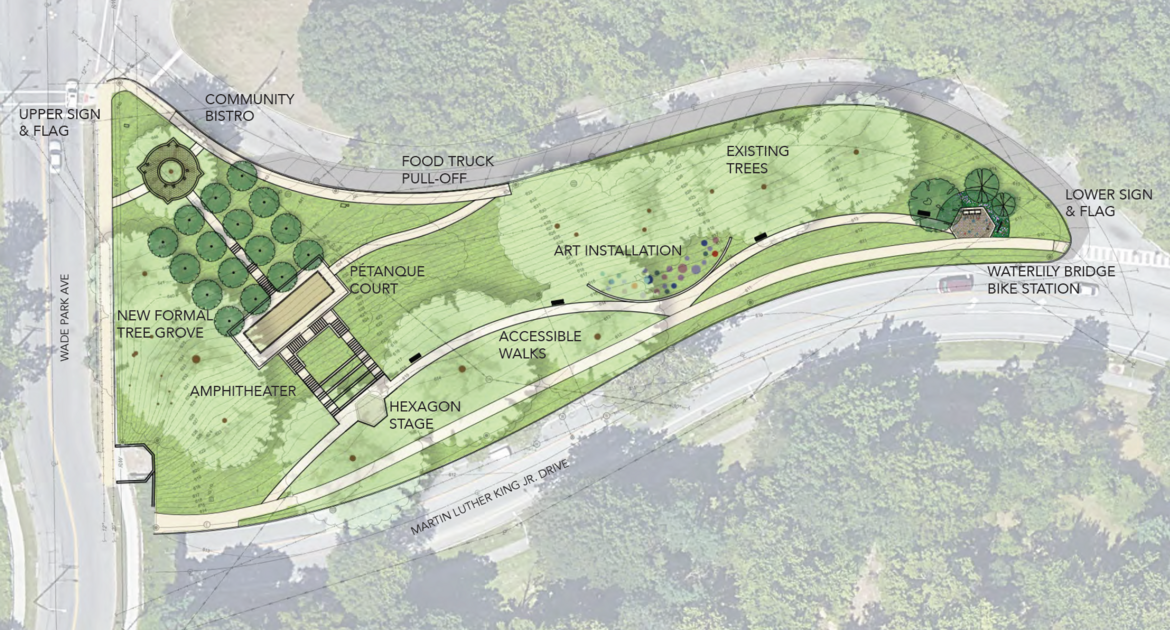 Help Us Bring the French Cultural Garden to Life
Since the first garden was created in 1916, the Cleveland Cultural Gardens have served as a celebration of diversity and a place where all the countries of the world can come together in peace. The French-American Chamber of Commerce of Ohio is excited to announce that it's time for France to join the 33 other countries represented in this historic space.
The International Cultural Gardens Federation officially reserved a location for the creation of a French Garden in Cleveland. This new garden will be made in collaboration with the City of Rouen (Normandy) and the City of Cleveland Mayor's Office – but we need your support to bring the French Garden to life.
We are currently raising funds to support the design and creation of our Cleveland French Cultural Garden. Every dollar raised will help us create a garden that celebrates the French-American community in Ohio, highlight France's cultural contributions, and grow a space where people of all backgrounds can come together in peace. Please join us in supporting this project. Make a gift today to help us plant the seeds for the French Cultural Garden.
Co-Chair
Larry Miller - President of FACC-Ohio
Cedric Le Rouge - French Honorary Consul
Eric Novello
Doug Amberman - Maison Francaise de Cleveland
Sandrine Cleron
Contacts:
cedric.lerouge[at]faccohio.org
Sponsors & Large Donations

Our Goal
France is renowned for its breathtaking gardens, design, and architecture. Our goal is to create a living garden that showcases French culture and creates a space where people can gather, hold activities, and enjoy all year round.
In order to create this living garden, we are looking to raise a total of $400,000. This amount will go toward the initial planning, design, landscaping, and building of the new cultural garden and its multiple features. The project will be broken out into multiple phases to help build different spaces where people can connect with French history and congregate as a community.
Our initial goal is to raise $90,000 by spring of 2023. This amount will allow us to break ground for the community entrance and bike station in the spring and have those spaces complete in time for Friday, July 14 – Bastille Day.
Our Design Partners

Richard K. Levitz, AIA | R.K. Levitz LLC
Jayme Schwartzberg, RLA, ASLA | DERU Landscape Architecture
Our Plan
The French Cultural Garden is made up of four different sections, each of which we hope to build between 2023 and 2024. The following sections were carefully planned and designed to convey that French culture is alive in Cleveland while giving the community a new space to spend time and come together.
Phase 1A – Waterlilly Bridge and Bike Station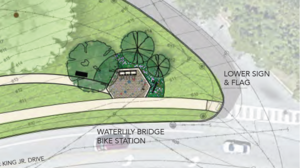 The northern corner of the French Cultural Garden will be home to the Waterlilly Bridge and Bike Station. Built in the shape of a hexagon to honor France's nickname – L'hexagone – this section will include several heaxagonal bricks with the name of French celebrities and other representatives who have made notable contributions to humanity.
This part of the garden will serve as a nod to both the Tour de France and Monet's impressionist works. The structure will be colored to match Monet's famous painting "The Water Lily Pond" and serve as a bridge from the rest of the gardens into our space. Meanwhile, the bike station will include a repair station and bike storage area for anyone riding along the Cultural Gardens to enjoy.
Phase 1B – Community Entrance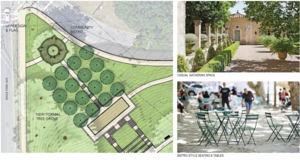 The southwest corner of the garden will serve as a way to connect our space to the rest of the Cleveland community. People from the local neighborhood or the Cultural Gardens can congregate at a community bistro built around one of the trees that have grown in that area for decades.
The bistro will invoke a classic outdoor French café, complete with seating and tables. The stonework around the tree will feature more hexagons, a nod to how the country of France itself has roughly six sides.
Phase 2 – Hillside Phase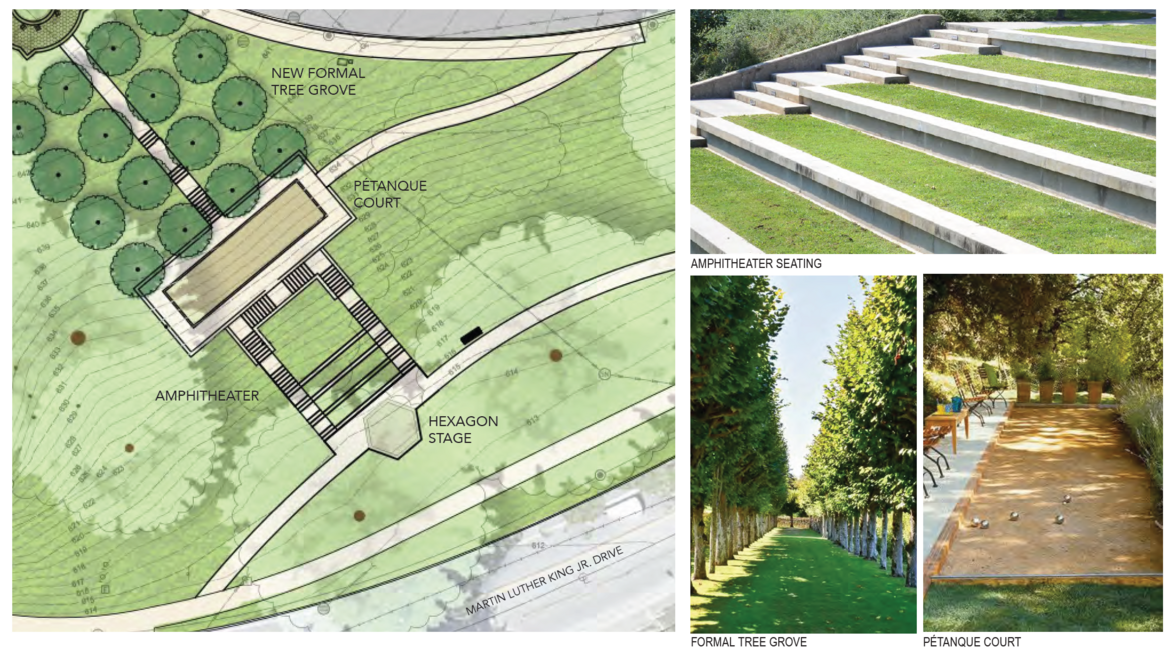 Arguably the most intensive phase of the project, phase 2 involves landscaping the hillside to add multiple classic French spaces. The hillside area will start with a hexagon stage to allow a place for live music, speeches, and other public performances in front of open amphitheater seating.
People can either hang out in the amphitheater or take the stairs up to the terrace. This terrace will be home to the petanque court, a classic French sport similar to bocce, giving the community a place to play games or hold events while overlooking the stage area. A formal tree grove of either European Hornbeams or London Planes – two trees common in France – will sit behind the terrace, creating an idyllic pathway connecting the walkways along Martin Luther King, Jr. Drive and the community entrance.
Phase 3 – Art Installation Phase
The middle of the French Cultural Garden will be home to a rotating series of art installations. We will work with various art organizations in both Cleveland and France to host showcases that embody French culture and can rotate every few years to highlight different aspects of France's significant contributions to art, fashion, and design.
The art exhibits will be situated near a retaining wall along the public pathways. This wall will help connect the stories of France's past with the technology of today by allowing passersby to scan QR codes and learn about notable French figures and their contributions.
Our Sponsors
La Maison Francaise de Cleveland
Les Cercle des Conferences Francaise
and many individual donations