The FACC invites you to celebrate the Beaujolais Nouveau 2023 and support our French Cultural Garden.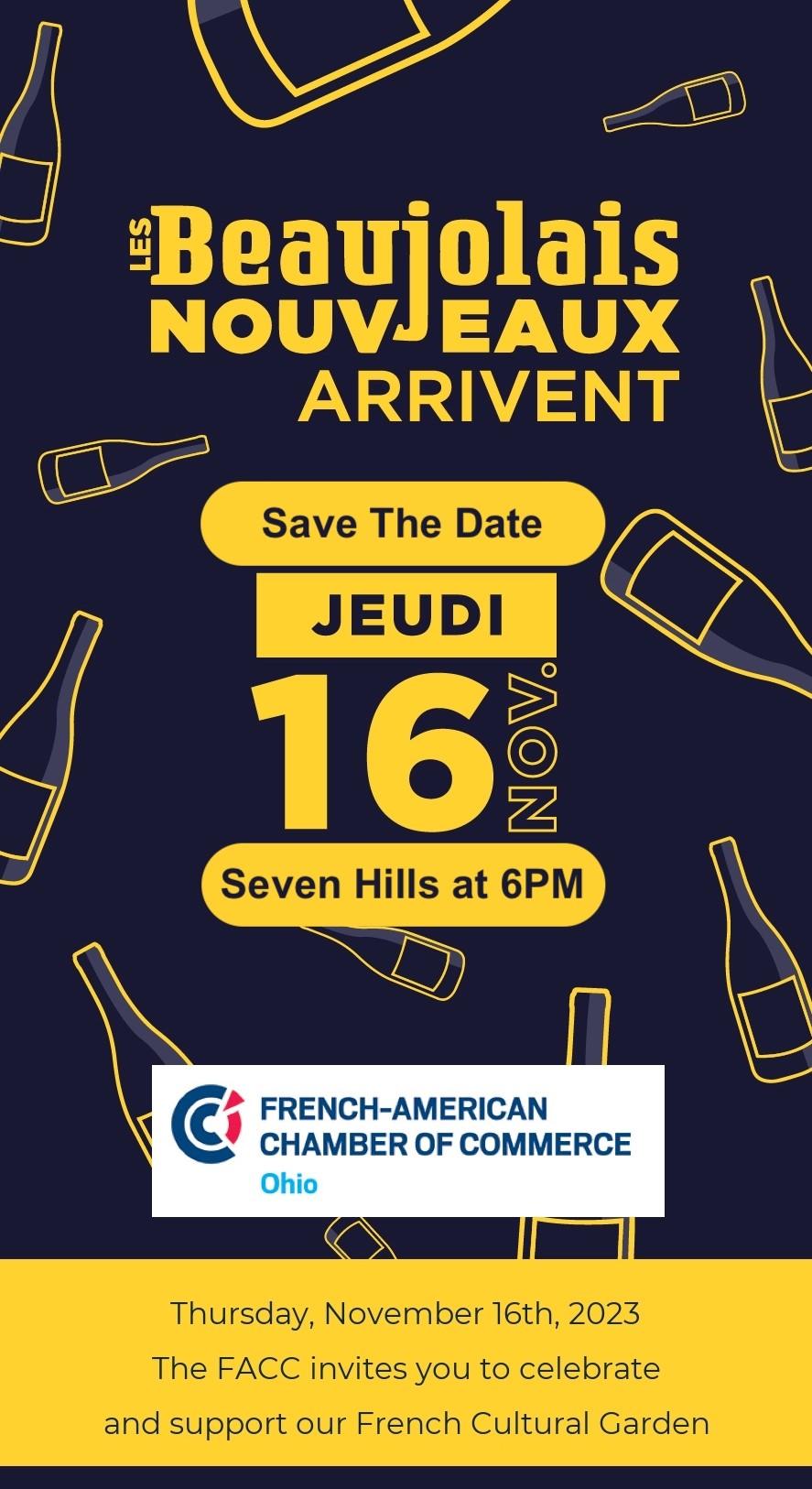 The French-American Chamber of Commerce of Ohio cordially invites you to a Beaujolais Nouveau event in Cleveland, celebrating the unique Franco-American camaraderie. This spirited get-together, in collaboration with Edwins, Marchant Manor Cheese, Sophie La Gourmande, Brewella, and of course Georges Duboeuf Beaujolais nouveau distributed by Quintessential Wines, aims to unveil the first wine of the season in a lively, communal ambiance.
Edwins, a symbol of culinary excellence, alongside Sophie La Gourmande and Brewella, will orchestrate a gastronomic journey. The meticulously curated menu encompasses a diverse charcuterie, a selection of four exquisite cheeses, a refreshing salad, and a choice between classic Tarte Tatin or indulgent chocolate cake to satiate the sweet palate. The culinary experience is rounded off with a warm cup of coffee, allowing for relaxed conversations and networking.
This casual, interactive evening is not just about relishing good wine and food, but also about championing a noble cause. The proceeds from the event are dedicated to the French Cultural Garden in Cleveland, with an aim to raise an additional $5,000. Your participation will contribute to this cherished cause, celebrating and enriching the Franco-American cultural heritage in Ohio.
Join us for an evening of relaxed networking, cultural appreciation, and collective philanthropy, as we raise a toast to the enduring friendship between France and America, and work towards a shared goal of cultural enrichment and community engagement.
PS: You can start your membership today to benefit from preferential rates on paid events.